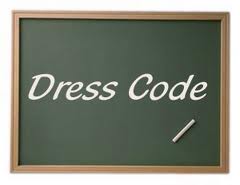 For the 2016-2017 school year, we will adhere to the following schedule:
Monday
: Classroom College T-Shirt - on Monday, we will support our classroom colleges by wearing the shirt representing our teacher and our class. On Monday, students can wear any shirt representing a college (even if it is not their class college) or a shirt representing a branch of the US Military. The shirt must meet the district and site dress code requirements - i.e. no midriffs or tank tops, etc.
Tuesday - Thursday
: Students are to wear a shirt or top with a collar. Collared shirts/tops must adhere to district and site dress code policies.
Friday: School Spirit Wear - This includes any t-shirt or shirt that represents our school or a program at our school (100 Mile, AVID, college shirt, US Military, other CVUSD High Schools, etc.)
For students not participating with a classroom college t-shirt or school spirit shirt, the collared shirt rule will apply on Mondays and Fridays. T-shirts are not to be worn on a Monday or Friday unless they align to the theme of those two days.
All existing dress code policies addressing shorts, pants, dresses (regarding length), etc., will continue to be followed. We will continue to discuss this issue at our Grade-level Orientations in August.
Please note: a collared shirt does NOT have to be a polo shirt.