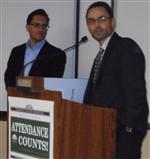 $50,000 in Scholarships Available for Class of 2016
Funds Raised through Annual Chino Valley Unified School District Golf Tournament hosted by School Portraits by Adams Photography
Tim Adams of School Portraits by Adams Photography provided the Board of Education with the largest check to date of proceeds from the "Hit the Greens for Scholarships" Golf Tournament held in November. Adams has been hosting the tournament for the District for six years. This year's check in the amount of $31,329.29 and funds that were available from previous years enables the District to distribute $50,000 to students, the largest amount since the tournament began. To date, more than $145,000 has been given to 116 seniors.
"The opportunity to assist students as they choose to continue their education is something that we consider a privilege," said Tim Adams of School Portraits.
The scholarships will be awarded to high school seniors at each of the following schools: Ayala, Buena Vista, Chino, Chino Hills, and Don Lugo. The application period has begun and will continue through Feb. 29.
Seniors at each of those schools may apply for one of the following:
Spirit of Chino Valley Unified
Awarded to a student who has volunteered at school or in the community, has embodied school spirit by serving in a student leadership role, has participated in school activities that promote good citizenship, and has an outstanding attendance record.
Awarded to a student in need of financial assistance to continue their education.
Awarded to a student who has embraced academic rigor and excelled by earning an overall grade point average of 3.8 or higher.
Click on the required documents below:
Cover Letter from Superintendent Wayne M. Joseph
Application – open in Adobe, complete on-line, print out to sign and submit with required documents
Checklist – be sure to attach all required documents and signatures
Pictured:
Andrew Cruz (left), President of the Chino Valley Unified School District Board of Education, holds a ceremonial check for $31,329.29 at the Jan. 21 board meeting. The check was presented by Tim Adams (right) of School Portraits by Adams Photography, which sponsors the annual "Hit the Greens for Scholarships" Golf Tournament.
---