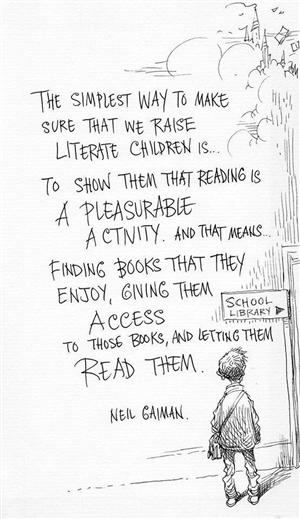 ---
The Ramona Junior High School library is dedicated to helping each student fulfill their greatest potential by providing high quality informational and recreational reading material. Our primary goal is to help students achieve excellence in their education and schoolwork, while allowing them to pursue their own hobbies, dreams, and goals.
---
---
About the Library:
HOURS: The library is open from 7:00 a.m. until 3:00 p.m. Monday through Friday.
SERVICES: The library is available for flexible scheduling of classes. Students may use the library before school, during lunch and after school.

POLICIES: Borrowers may check out three items at a time for a period of two weeks. Books may be renewed if additional time is required. To retain their borrowing privileges, library users are encouraged to return items on time and in good condition.
HOLDINGS: Ramona's library has a collection of over 12,000 print and non-print materials that includes books, magazines, graphic novels and audio books.

LIBRARY CATALOG: Follett's Destiny Library Manager is the library's automated system. Because of its ability to search with key words, Destiny is a very powerful and user-friendly tool. Students can search for specific types of materials by using any computer on or off campus.
COMPUTERS: There are eight computers available for student use in the library. Students may type reports, play skills-based games, and access the Internet, with permission, to search for specific subjects as needed for school reports. Printing is free.
---