Rough Rider Vocabulary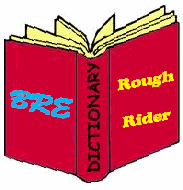 Don't know what your children are talking about when they come home from school? Well, read on Partners!


100 Mile Club:

A running program that encourages members to run and accumulate incentives at various milestones: 25 miles, 50 miles, 75 miles and 100 miles.


Accelerated Reader:

A reading program which is used at our

school

. Each reading book is assigned a grade level and point number based on the difficulty and number of words in a book. Students read the book and take a comprehension test on a computer to advance to the next level. Click

HERE

to search through AR books.

All The Right Type 4 Online

: This is an online typing program offered by the district for students to practice/acquire typing skills in order to take the new state test,

Smarter Balanced/Common Core Standards

, that are administered on a computer. Students need their district computer usernames and passwords to sign in.

Amazon.com

: In an effort to raise funds for the school, BRE PTA signed up as an Amazon Affiliate where BRE families are encouraged to click through our Amazon.com link when making online purchased. BRE earns a percent of your purchase to pay for BRE supplies and programs.

Art Academy

: Previously called Picture Person, this program runs once a month in each classroom. A parent volunteers for one hour a month to prepare and run a pre-selected art project in their child's classroom. This is how we get art lessons into our classroom


Band and Choir:

Band is taught free of charge to fifth and sixth graders (student must purchase or rent their own instrument). Choir is taught free of charge to fifth graders.

Birthdays on BRE Marquee

: BRE offers an opportunity for you to order an announcement for your child's birthday to be displayed on the school's official Marquee where everyone can see.

Box Tops for Education:

Box Tops are the small coupons located on many items in your own home. Each Box Top is worth 10 cents. Children are asked to bring these items in as a

fundraiser

.


Buckaroos and Trading Post:

Buckaroos are incentive awards in the form of Monopoly style dollars given to students by their teachers. The Buckaroos are redeemed at the Trading Post at the end of each trimester. Prizes are funded by the PTA.

Common Core State Standards (CCSS)

: A new state standardized test to be implemented in California in 2014-2015 school year. This new assessment test will replace the current STAR test.


Dance A Thon:

Held in the fall this year: children raise money for the school by dancing to a DJ on a preselected day. Parent volunteers are usually needed for an hour or so that day.


Dinner Nights: Held once a month, BRE partners with local restaurants. Those restaurants give our school a percentage of their profits earned from BRE families. This activity is a perfect way for parents to get involved when they can't be at the school during the day.


Distinguished School:

Certain schools throughout California have this designation based on a variety of factors including teacher and administration quality, availability of programs, and testing results. Butterfield Ranch Elementary is a Distinguished School.

eScrip Online Mall

: eScrip links to a list of online retailers. BRE PTA earns a percent of purchases made by customers who click through our eScrip icon to get to these online retailers and make a purchase. Support BRE when you make online purchases by clicking through our eScrips icon on our Home page to make your purchases.

Father-Daughter Dance and Mother Son Night

: The Father Daughter Dance is held in February and is a dress up event. The mother Son Night is held in the Fall.

A child will never be excluded

based on their family situation, they may attend with any beloved family member of any gender who is an adult.


Fun Club:

An onsite daycare that is administered by the CVUSD Office of Child Development. This service is available before and after school.



JiJi:

A computerized math program where students learn from visual cues. Each class is scheduled to attend the computer lab twice a week where students work through the exercises independently. Students have access to JiJi from home also. JiJi's symbol is a penguin. The goal of the exercises is to help JiJi cross the screen.

Labels for Education

:

Labels for Education

® is a fun and easy program where families and members of the community work together towards a common goal — "Earn Free Stuff" for their school! Collect UPCs and beverage caps/sauce caps from over 2500

participating products

to earn points for

BRE

to redeem for Arts, Athletics, and Academics

merchandise

..

Monday Morning Roundup:

Children receive announcements for the week on Monday morning at the area in which they line up. Announcements are made by the principal. A child from a classroom is asked to begin the Pledge of Allegiance.

MySchoolbucks.com:

An online account in which you can view or pay for your child's lunch.


netTrekker

: The district offers this search engine for students to safely research online and receive educational search results

Project Self Esteem

: This program is run once a month in each classroom. A parent volunteer kindly comes in one hour a month and prepares and runs a pre-selected self-esteem and anti-bullying project and discussion in their child's classroom.



Room Parent:

Volunteer(s) sign up as room parent for a specific class to help the classroom and facilitate PTA-Classroom activities.



Rough Rider Awards:

The awards ceremony at the end of each month for grades 1-6. Awards are given for citizenship and academic achievement.


Safari Montage

: This is a district program offered to students to view educational videos that align curriculum standards.

Science Academy

: PTA runs this program to give students hands-on lessons in science. Teachers schedule and coordinate a lesson with a parent volunteer. Students go to the Science Lab on the scheduled date for each lesson.


Shoparoo

: As part of BRE PTA's fundraising programs, BRE families and friends are encourage to install the app in which you scan your shopping receipts to earn points for BRE.


Spirit Wear

: BRE's spirit colors are orange and blue. Every Friday, we encourage students to celebrate BRE by wearing our school colors. We have spirit wear available for purchase

HERE

.



Target Red Card:

Sign up for a Red Card through Target (credit card OR debit card) –you get 5% off everyday on your total purchase and the

school

gets an additional 1% back.

Teacher Lists:

BRE teachers are encouraged to post supply lists/requests online in order to communicate supplies that students should have while in class as well as supplies needed for general classroom use.



Triple T Thursdays:

After school items for sale which can range from bracelets and trinkets to popsicles or juice drinks. The items are announced to the students in advance.


Wild West Night: The school carnival. This year it will be held in the Spring. The school carnival is widely attended by most students at the school. A Silent Auction is also held. Each classroom is assigned a theme basket and all parents are asked to donate items to that basket.