Welcome to the Ayala High School Library Page
909-627-3584 Ext. 2422
Looking for a fun and relaxing place to study, read and do homework?
Visit Your Library/Media Center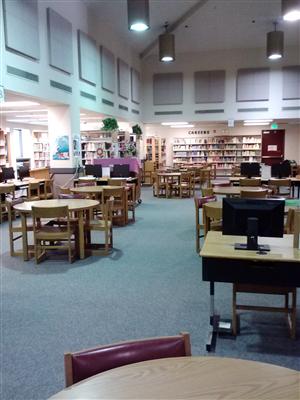 WELCOME BACK TO AN EXCITING SCHOOL YEAR!
Hours: Monday thru Friday 7:00 am-3:30 pm
Hours may vary during testing, minimum days and scheduled meetings
Policies:
• Four books may be checked out with an ID card for 14 days and may be renewed twice.
• Reference materials, and magazines are available for use within the library.
• Replacement costs will be assessed for damaged or lost materials.
• Computers are available for school work only.
• Students who enter the library during class time must either be with a teacher
or have a written pass.
• All AHS rules are enforced in the library.
• Keep all food and drinks outside the library.
• Students are expected to be respectful and considerate of other library users and staff.
Library Staff:
Alicia Morales, Teacher/Librarian
Alicia_Morales@Chino.k12.ca.us
Connie M Martinez - Secondary Library/Media Assistant
Connie_M_Martinez@Chino.k12.ca.us
Janet Rust - Secondary Library/Media Assistant
Janet_Rust@chino.k12.ca.us