Nov. 18, 2016
A message from Superintendent Wayne M. Joseph
The holiday season is the time of year we all take time to pause and count the numerous blessings in our lives. This is never more important than this year in which recent events have underscored the seething anger and frustration of many of our fellow American citizens. The time has come therefore, for us to reflect upon the positive occurrences that have affected us.
For me, it has been heartening to witness, these past twenty three months, the spirit of cooperation throughout the Chino Valley as my team and I met to discuss the facilities needs in our District. This time was especially gratifying in that it reaffirmed how vital and robust our schools are and how they continue to be a top priority for our community.
No matter the outcome and final results of Measure G, let us never doubt or question this community's commitment to its schools and its children.
I hope that you will have some moments to reflect over this past year as well, and may the magic that is so prevalent this time of year permeate your lives and that of your families.
I wish all of you a very safe and prosperous holiday season.
Wayne M. Joseph
Superintendent
---
Oct. 18, 2016
A message from Superintendent Wayne M. Joseph:
On August 4, 2016, the Chino Valley Unified School District Board of Education placed Measure G on the November 8, 2016 ballot to ask voters to consider a $750 million education bond to repair and upgrade aging and deteriorating classrooms for safety and technology, to continue to attract and retain our excellent local teachers and educators, and to ensure our schools continue to outperform State and county averages.
As you may know, most of our local schools were built decades ago – some in the 1950s – and they need basic repairs. If approved by voters this November, Measure G will replace older plumbing systems and rusty, corroded water pipes found in many schools and ensure safe drinking water. It will also remove asbestos and lead paint, fix restrooms, leaky roofs and update fire safety systems in our local schools. Additionally, Measure G would be used to provide repaired and safe space for before- and after-school tutoring, computer, math and science labs, and the arts and physical education, ensuring students and their families get the support they need to succeed, and that our schools maintain our high levels of academic excellence.
Over the summer, an independent community survey commissioned by the District concluded that Chino Valley voters remain very supportive of our local schools and are prepared to support an education bond. The proposed Measure G requires an independent Oversight Committee and annual financial audits. By law, no Measure G money can be spent on administrators' salaries or pensions, and it cannot be taken away by Sacramento politicians. All funds are required to be spent locally to improve our neighborhood schools. These fiscal safeguards ensure funds are used efficiently and effectively.
I am humbled by the community's support for our parents, teachers, staff and students. The community clearly recognizes that safe, repaired and up-to-date classrooms are important factors to a child's success.
Please visit www.chino.k12.ca.us for more information about Measure G.
Thank you,
Wayne M. Joseph
Superintendent
---
Aug. 3, 2016
A message from Superintendent Wayne M. Joseph:
A heartfelt welcome to all of you as we begin the 2016-17 school year.
Just a reminder that our students will start a week earlier this year, on Monday, August 15th.
We are especially exuberant going into this year having recently concluded negotiations with both of our Unions. All of our employees are looking forward to providing exemplary customer service to our students and their parents.
But let's not forget that the most important key in the academic efficacy of our students is parental involvement. So parents we look forward to partnering again with you this year to ensure the success of all of our students.
Again, welcome back, and have a great school year!
---
August 2016
A message for Chino Valley Unified School District
parents from Superintendent Wayne M. Joseph
Hello, this is Mr. Wayne Joseph, Superintendent of Chino Valley Unified School District, extending a warm welcome as we prepare for the new school year.
I'd like to remind you that our students will start school a week earlier than usual, on Monday, August 15.
It is always exciting to start a new school year as students reconnect with friends and school staff members.
But don't forget: Parent support and involvement is the most important factor in student success. So, read to your children, work with them on their homework, and support their school-related activities.
Again, welcome back and have a great school year.
Thank you.
---
June 29, 2016
A message for Cal Aero Preserve Academy parents
from Superintendent Wayne M. Joseph
Hello, this is Mr. Wayne Joseph, Superintendent of Chino Valley Unified School District, extending a warm welcome as we prepare for the new school year.
Wednesday, July 6, is the first day of school for Cal Aero Preserve Academy students on Year Round Tracks A, B, and C. The first day of school for Track D is Monday Aug. 1, and Cal Aero junior high students will begin the school year on Monday, Aug. 15.
It is always exciting to start a new school year. Students reconnect with friends and school staff members, but don't forget: Parent support and involvement is the most important factor in student success. So, read to your children, work with them on their homework, and support their school-related activities.
Again, welcome back and have a great school year.
Thank you.
---
End of the Calendar Year 2015
A message from Superintendent Wayne M. Joseph
As we come to the end of another year, we naturally find ourselves ruminating over the past twelve months. On a global level, the loss of life as a result of the shootings in San Bernardino has left many of
us uncertain and afraid, surely wondering if there are liberties Americans are willing to sacrifice in the future to feel more safe and secure (knowing that absolute security is a mere figment of one's imagination). On a District level, we have seen people voice their opinions on the issue of prayer at board meetings and the comments of one board member at the July board meeting. We have seen the democratic process unfold in front of us in which people are able to express themselves freely. But democracy has never been easy nor will it ever be in a country that has struggled with issues like slavery, voting rights for women and minorities, and immigration. The constant "push and pull" that comes with democracy is at times unsettling, but necessary, if the democratic process is to work.
But we tend to take this freedom to voice our discontent for granted. As a diverse society though, disagreement is inevitable. Unfortunately, at times, we tend to celebrate more of how we are different than how we are alike. The commonality of the human condition----the fear of failure, the anxiety over death, the need to be loved, are qualities all humans share, and yet, much too often, we continue to separate ourselves by relishing in our differences.
It is my hope that during this holiday season, we celebrate our similarities as human beings and take the time to appreciate and give thanks for the freedoms we all share.
Merry Christmas and Happy Holidays to all!!!
---
Nov. 16, 2015
A message from Superintendent Wayne M. Joseph
This fall has been an exciting and extraordinary one for me as Superintendent. I have spent the last couple of months visiting each of the District's 35 schools and hosting small group meetings with principals, teachers, staff, and parents to better understand the unique needs at every school.
In addition, I have launched a conversation with various community groups regarding the needs of Chino Valley schools.
It is truly heartening to work with a school community which understands that if we want to maintain the high level of academic excellence and prowess for our students, we need to invest in our aging schools and technology, improve classrooms, and keep our children safe.
I will be returning to schools in the spring, to host larger meetings with every school community and report back on what we've heard so far and get additional input as we plan for the future of our schools.
If you have not had the chance to provide your feedback, there is still time! We want input from as many families as possible. Please spend a few minutes to take our feedback survey at www.chino.k12.ca.us/outreach. Thank you again for your willingness to be part of this thrilling process!
---
Sept. 17, 2015
A Message from Superintendent Wayne M. Joseph
Undoubtedly, this has been the best start of any school year that I have encountered in my six years as Superintendent. With the restoration of a little over a million dollars in classified hours and positions, the hiring of 121 new teachers since July 1, and the significant decrease in combination classes, morale is very high District-wide. In addition, the recent release of test scores once again shows that we are well above the State and County averages.
In addition to our teachers and classified personnel, we could not have experienced the level of success we have had as a District without the support of our families and community members who value our schools. Active participation in school meetings, hours volunteering in classrooms and on field trips, and time spent at home helping with homework are all essential in helping to provide our students with the support and opportunities they need to succeed. As the District plans for the future, the participation of our school communities couldn't be more important. Understanding the priorities of each school community is essential in developing a shared vision for the future.
I am in the midst of visiting every school to obtain feedback concerning the needs of our schools. Whether it is investing in new technology, upgrading school-career education programs, improving classrooms, or making basic health and safety improvements at our schools, I would like to hear from our families and community members to help shape the future of our schools. Please spend just a couple of minutes to take our feedback survey at www.chino.k12.ca.us/outreach.
A heartfelt thank-you for such a wonderful kick-off to our school year and I am confident that the rest of the school year will be as positive and successful for our District and its children as the beginning of this year has been.
---
Aug. 13, 2015
A Message from Superintendent
Wayne M. Joseph
It is the beginning of another school year, and we are once again imbued with a spirit of excitement, anticipation, and a renewed sense of commitment. As a theme this year, I have asked the administrators in our District to devote this school year to the memory of the untimely deaths of a number of our students over the past few years, particularly those who have taken their own lives.
It is my hope that through their deaths we can re-commit to becoming a nicer, kinder, gentler District, one in which kindness and compassion become the rule rather than the exception. But before we can expect our students to display such attributes, we adults must model that behavior for them. Are we routinely kind and compassionate with one another, or do we allow life's daily travails to interfere with our ability to be better human beings? Do we seek out the good in each other or do we tend to emphasize instead those things we find lacking or disagreeable in the other person?
We have many loving and kind employees in our District who share their warmth and benevolent spirit with fellow employees and students on a daily basis. I ask us to follow their example and become better than we are both as individuals and as a District. I am confident that all of those students who have lost their lives would be honored to know that they played a significant role in moving an entire District to become a better place in which to work and go to school. I hope you agree with me that it is a goal worth pursuing.
---
May 2015
A Message from the Superintendent
I have often been asked over the previous nineteen years as an employee of our District, why I have stayed in Chino rather than moving to another school district. My answer has always been that the Chino District is a special place due to the quality of its people. I am again reminded of this fact upon realizing that May 13th is the "Day of the Teacher" in our State, and May 17-23 is "Classified Employees Week."
One can never overemphasize the impact that teachers have on the students in our District. We naturally think of the academic influence our teachers have especially in light of the outstanding reputation our District has for scholastic prowess. However, equally important is the emotional effect our teachers have on our young people. The kind word, the engaging smile, and the encouraging hug are the typical behaviors of our teachers.
Meanwhile, our classified staff are the unsung heroes and heroines in our District. Their work often goes unnoticed and unappreciated. The school secretary who greets every visitor with a warm welcome; the instructional aide who ensures that the teacher's words are understood by the students; the cafeteria worker who makes sure that our students receive healthy, nutritious food are just a few examples of the impactful work that is performed by our classified employees.
We are all guilty at times of taking for granted many of the favors that have been bestowed upon us. As Superintendent, I am once again reminded of our exemplary employees that expend all of their physical, mental, and emotional energies in an attempt to make CVUSD the wonderful place it continues to be.
So when I am asked why I have remained in Chino the answer is always the same---it is our magnificent employees who continue to motivate me and make me realize how blessed I am to be in a district where the inspirational and the uplifting are on display each and every day.

Wayne M. Joseph, Superintendent
---
December, 2013

MESSAGE FROM SUPERINTENDENT WAYNE M. JOSEPH
My Chino Valley Unified Family,


As we approach this holiday season and the culmination of another year, I want to take this opportunity to thank you for the abiding support extended to me as your superintendent. In spite of our challenges these past four and a half years, our students continue to achieve due to the unbounded professionalism and commitment of our teachers, classified personnel and administrators. I thank the heavens each day that for the past eighteen years I have been able to serve in a district that continues to be, day in and day out, one of the finest in the State.


I approach the new year with a renewed sense of purpose and enthusiasm. With the new changes in funding from the State, and input and collaboration with all of our stakeholders, I expect 2014 to be a transformative year for our District.


My sincere thanks again to all of you for making Chino Valley a place where students truly do come first!
Happy Holidays, Merry Christmas, and Happy New Year to all.
---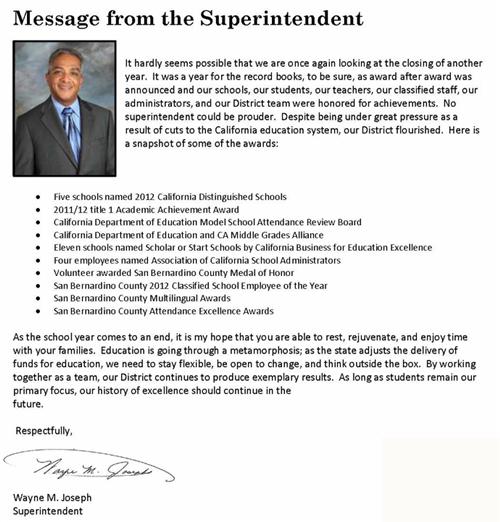 ---
March, 2012


Challenges are what make life interesting; overcoming them is what makes life meaningful.
--Joshua J. Marine

It goes without saying that our District is currently facing a fiscal crisis that is quite unprecedented. Its response to these times will resonate for years to come. In my estimation, there are two types of districts - those whose employees work together to find solutions to issues as deep and as perplexing as budget cuts, and those whose employees point fingers at each other and work in isolation during times of stress. I have always held Chino Valley Unified School District to be the district that sets an example for others. Our people have been known to treat others the way they would like to be treated.


There is no question that this is one of those times that can either bring out the best or the worst in a person, a school site, or a district. The pain is real and it can be frightening to look ahead to see how education is going to be delivered in the next few years. The Board of Education had to make some very tough decisions over the past 45 days. The depth and breadth of those decisions will change the face of the District.

Why did they dig so deep? How do they think the District can function without the people and programs? Those are just some of the questions that I have been fielding. The answer? It's very simple – they had to. The District has lost more than $30 million in revenues over the last five years. I hesitate to dwell on the obvious but when the District spends 91.5% of its unrestricted general fund on salaries and benefits that is the area where cuts must take place.


Think of it in these terms: the District gets a "paycheck" in which it has to pay its expenses each month. There is enough to pay the bills with just a small amount left over. But each month the amount left over is shrinking as expenses keep increasing until we see in the near future that without a bigger paycheck, there will not be enough to cover expenses. School district financing is literally no different than what you do with your paycheck and how you manage your budget at home. The main difference is that school districts are required to keep a percentage in reserve in proportion to the overall budget and the County Office of Education tells us what assumptions must be included in our budget preparations.
Just as there are some groups who feel that the cuts are unfairly shouldered by some and not others, a frequent target lately has been the District office. Representatives from Associated Chino Teachers (A.C.T.) asked for district office and Maintenance and Operations and Transportation offsite staff positions during fiscal year 2008/2009 as compared to 2011/2012. You may see the difference by clicking the link to the five page document.
(Click here)

I am hopeful that we can stick to the facts when discussing the budget. There is myth and urban legend and then there is reality. Most people want to know the truth and many are willing to spend time researching it themselves. Others are content to pass along information that may or may not be accurate. As statements and questions are raised, the District will attempt to provide answers or clarify information.


As trying as these times are, however, there is no shortage of good things to acknowledge. The Board of Education has also been recognized by the California Department of Education in partnership with the California Middle Grades Alliance because of their collaboration in acknowledging the importance of promoting academic excellence, developmental responsiveness, social equity, and organizational structures and processes. The Board was nominated by middle grade administrators and endorsed by a second administrator within the District. The award recognizes the critical support school boards provide to implement and sustain focused reform efforts that promote student achievement in the middle grades.

In addition, over the past three weeks, four elementary and one K-8 school hosted Distinguished School Validation visits. Cal Aero Preserve Academy (K-8) and Chaparral, Oak Ridge, Rolling Ridge, and Wickman Elementary Schools are in the near-final stretch to become the District's newest distinguished schools. The distinction is not taken lightly nor is it easy to obtain, but it is validation that in spite of claims to the contrary, the District's mission to provide a quality education to its students is being maintained.


In conclusion, the near future may not appear hopeful and bright. But let it be duly noted that in spite of the adversity that seems to overwhelm us at times, our District will persevere and will remain a "beacon of light" in the communities of Chino, Chino Hills, and south Ontario.
Respectfully,


Superintendent
---

February, 2012


The Board of Education took action on February 2, 2012 regarding the 2011/12, 2012/13, and 2013/14 District-Wide Budget Reduction Plan. The Board took the steps necessary to balance the budget in the event that the Governor's tax initiative does not pass, resulting in an approximate $20 million deficit for our District over two years. Should the initiative fail in November, the Governor plans to implement a midyear cut of $370 per average daily attendance (ADA) for school districts. Waiting to see if the initiative passes is not an option, as the County Office of Education is requiring districts to submit a budget that will reflect the District's status should the tax initiative fail.

How did we get here? Since the State's fiscal crisis began, funding for education has been cut by 16%, or $7 billion each year, beginning in 2008/09. This is the fourth straight year, and we are entering the fifth year that the District has had to endure a revenue reduction from the State. The District has lost more than $30 million in revenues over the last five years and has been forced to make budget reductions of significant magnitude to bridge the revenue deficit. The level of funding per average daily attendance (ADA) projected for this year is $5,149, compared to $5,776 per ADA from 2007/08. Additionally, the District has been experiencing declining enrollment at an average of 500 students per year for the past six years.

Earlier this month, the Board had the unenviable task of balancing the budget after already cutting thousands of dollars from the budget. Items that had the least impact on students and the classrooms were eliminated years ago. Over the past several years, the Board has cut programs, salaries, services, and even the number of days students attend school. Approximately 91.5% of the District's unrestricted general fund is spent on salaries and benefits, leaving only 8.5% for general supplies, services and operations expenses.

All employee groups – certificated, classified and management - have contributed to reducing the budget gap through furlough days, salary reductions, a hiring freeze, an increase in class sizes, layoffs and elimination of positions, and budget reductions at the school sites and within all departments. Although campaigns to increase student attendance and reduce energy usage have captured millions of dollars for the District, all measures combined were not enough to allow the budgets to balance in the event the tax initiative fails.

At times the "right" thing to do is not necessarily the most "popular" thing to do. Rumors and misinformation circulate during times like this and the truth being stretched beyond recognition does nothing to help ease the situation. The facts are available on our website under the budget tab. For instance, the Budget Study Session from October 13, 2011, specifies the savings to the District should each employee group take five to eight furlough days. The Budget Study Session held on November 10, 2011, specifies in detail the $2.8 million in ongoing cuts that have been made at the District office since July 1, 2009. With all of the scrutiny school budgets are subjected to, whether by the County Office of Education or through the annual audits, transparency is simply a standard practice.

Chino Valley Unified School District has undergone significant transformation since the State's financial problems have been passed on to us. We know that the schools will look significantly different next school year if the tax initiative doesn't pass or if we don't see substantial funding returned to the District. The Board of Education is committed to bringing back as many positions as they can, as expeditiously as they possibly can, should our financial situation improve. Surely during this time, we desperately need to maintain a spirit of cooperation in which all employee groups seek to find viable solutions to our fiscal woes. We must be careful that the initial hurt and sadness as a result of the cuts is not turned into anger and bitterness – there is no positive outcome to such an approach.

Instead, through this adversity we must all have the resolve to stand together, hand in hand, to find common ground during these difficult times. Only then will we be able to rise above the fray with the heart and soul of our District still intact.

Respectfully,



Wayne M. Joseph
---

October, 2011

The strength of a nation derives from the integrity of the home. -Confucius-
When I learned this week that the cities of Chino and Chino Hills were named as two of the 100 Best Communities for young people by America's Promise, I was reminded of the words of Confucius. Although I am thrilled by the recognition achieved by both cities, I can honestly say that I am not surprised.
As I visit classrooms throughout our District, I am always heartened by the quality of our young people in the area of both academics and character. Of course, these qualities emanate from the home. Primarily, it is the parents who instill in our children a sense of the importance of learning. This conviction is reinforced by our exemplary teaching and support staff, along with the influence of our community and community leaders. As a result, the Chino Valley Unified School District continues to be the envy of others.
We recently learned from the California Department of Education that five of our elementary schools, Wickman, Rolling Ridge, Chaparral, Oak Ridge, and Cal-Aero, are eligible to apply for Distinguished School status this year. In spite of budget and other constraints, our schools continue to soar because we are blessed to serve such substantively rich and vital communities.
Once again, I extend my heartfelt congratulations to the cities of Chino and Chino Hills for a much deserved recognition.

Wayne M. Joseph
Superintendent
---
August, 2011

Dear Staff and Community Members,


These are the best dates on the calendar, as far as I am concerned, when a new school year begins and every child comes to school with a clean slate. There are plentiful opportunities for each child to be successful. I hope you took the time to enjoy and celebrate the achievements of last year. Let us make a commitment that each child and parent – hand-in-hand with our excellent teaching and support staff – will strive for a level of success that might seem a little too far out of reach, but in reality, is not.

I have challenged the administrative staff of CVUSD to make that their goal as well. The mantra for the 2011/2012 school year is not man up but band up. The challenge is for each child to move up a level, or band, on the California Standardized Testing and Reporting (STAR) Program.

I believe that every child can be successful if given the opportunity. They cannot do it alone. Every day is important and as parents I ask that you make illness the only excuse for students not to be in school. Attendance - it Counts!

Let's make this the year that all adults, whether it is mom or dad, grandmother or grandfather, aunt or uncle, get involved as well. Time spent supporting your child's school-related activities, working together on homework, or providing quiet time to read a book are all actions that will benefit our students.

Make that commitment with me. Let's keep each child on the path to success by doing all we can for them.

Have a successful year!

Respectfully,

Wayne M. Joseph
Superintendent
---

December 10, 2010

As the holiday season rapidly approaches, it gives one pause to sit back and ruminate over the many things for which we have to be thankful. As a community which has withstood the assault of the dire economic times and continues to wait for the economy to improve, it is only through the caring and giving nature of many in our school and business communities that we have been able to survive.


In the school district specifically, in an unprecedented display of sacrifice, all three units, administrative, certificated, and classified gave furlough days to ameliorate the budgetary crisis. Their generosity we remember especially at this time of year.

On a personal level, I am thankful to those in our District community to whom I have turned during my own dark days and nights. These folks have always been there to provide the needed comfort and kind words at just the right moments. Let's all take the opportunity this holiday season to give thanks for all of the blessings we have living and working in such a vibrant community as the Chino Valley.
---
October 22, 2010


"Were it left for me to decide whether we should have a government without newspapers or newspapers without a government, I should not hesitate for a moment to prefer the latter." - Thomas Jefferson



I have recently given much thought to Jefferson's words.


I find myself often teased by superintendents from neighboring districts concerning the amount of front page coverage the issues in our school District receive in our local newspapers. Their feeling is that such coverage tends to keep the spotlight away from them and their district, so they kiddingly encourage me to keep the attention on our District.


I must admit that I have often wondered why we get more than our fair share of coverage in the press. I have even expressed my dismay and consternation to a member of the press when a recent article on our increased test scores appeared on page four of one our local newspapers while the legitimacy of a high school elective class incorporating the effects of the Bible on literature and history merited front page coverage in the same newspaper.


But in thinking about this issue again, I realize I was wrong.


As a member of the public, I may have an opinion, but should not have any control over the editorial decisions made by newspapers concerning the placement of articles. But more importantly, on re-examining this issue, I find it to be a "blessing in disguise." By being under such scrutiny, our District is better off in the long run. People will continue to hold us to a higher standard and we will tend to make better decisions knowing that the public has us under the proverbial microscope. As long as our District makes decisions that are honest and transparent without any ulterior motives, with the best interest of students at the core, we have nothing to fear.


We may decry, at times, the old adage in news reporting that "…if it bleeds, it leads." But a free press is one of the hallmarks of our democracy. Napoleon Bonaparte once quipped, "Four hostile newspapers are to be feared more than a thousand bayonets." As a dictator, Napoleon knew that the power of words ultimately outlasts the power of force and that in a truly free society, the press must be able to function without restraint.


So the next time I see my superintendent friends and they begin teasing me about our District's press coverage, I will smile to myself knowing that we in Chino are emblematic of one of the qualities that has always set America apart---a free and vibrant press.
---


September 17, 2010


The results of the 2009-10 Academic Performance Index scores are in and once again our District's students have shown an increase in performance. Our overall District score improved from 799 to 812 with a vast majority of schools showing an increase in scores from the previous year.
I must admit that although I am pleased by the scores, I am not surprised. If one were to walk in and out of the classrooms throughout our District as I have done, one would see the quality of instruction that our students receive on a daily basis. It is not luck or coincidence that our scores continue to rise, but it is a direct reflection of this community, parents, teachers, classified personnel, and administrators who have joined together to ensure that our students receive an outstanding education.
Kudos to all of our employees who continue to make our Chino Valley Unified School District the number one district in San Bernardino County.


---
July 15, 2010

In recent weeks, there have been accusations concerning sexual improprieties involving district students. I am shocked and heartbroken by these allegations. When regrettable circumstances like this have been alleged to occur, we naturally ask ourselves how this could have been prevented.

Although employees are fingerprinted before being granted employment, it is impossible to know what lurks in the hearts and souls of human beings. I, for one, never thought I would see the day when two planes would fly into the Twin Towers in New York, or hear of students shooting other students in Columbine, or read of people becoming suicide bombers for a cause in which they believed.

This is another reminder for all of us, but especially parents, to be active participants in students' lives. It means checking text messages and e-mails, monitoring phone calls, and knowing where your students are going during the day and evenings. What some students view as an "invasion of their privacy," becomes the only safeguard parents have to protect the innocence of their children.

I know this is a very unsettling matter that can raise questions and concerns. If you have any concerns that need to be discussed, please feel free to contact my office directly. You need to know that as a district, we are committed to doing everything within our power to ensure the safety of our students. However, it should be duly noted that our employees as a whole are a wonderful group of human beings who continue to devote themselves every day to the overall well being of our students. Although we are all heartbroken by the recent allegations, we must refrain from the tendency to "paint" all of our employees with the same "brush." Let us continue in our resolve to make our district the best it can be for all of our students.



---

June 18, 2010

The darker the night, the brighter the stars. - Chinese Proverb


When the board ratified the agreement with the Associated Chino Teachers at its June 17 meeting, it was truly a historic moment. For the past fifteen years that I have been an employee in Chino, I have heard how our district would never be "unified." For the first time, however, with the ratification of this agreement, all of our employee groups have shown their commitment to share in the pain of these economic times. It is humbling to be the superintendent of a district in which the employees have demonstrated such concern for its fiscal solvency --- they have even been willing to take a reduction in work days to positively impact the budget crisis. Although the prognosis is not much brighter in the near future, I am now even more confident that our "unified" district can withstand any and every hit it may be forced to endure. Thank you to all of our employees for being "beacons of light" in the current fiscal darkness that continues to engulf us.



---
May 21, 2010

With the budget challenges still swirling around us, it probably went relatively unnoticed that the Board approved a new Strategic Plan for our district at its May 6th meeting. Every strategic plan is simply a road map to inform all of the stakeholders – students, employees, parents and community, of the district's mission, vision, values, and objectives. This strategic plan which extends from 2010 -2013, has six goals which are designed to advance the District's mission and vision.
The emphasis is on instruction in the classroom and therefore, the district wide priorities stress curriculum that is aligned to the state standards; materials, equipment, and technology for the classroom that is equitably distributed among all schools; professional development for teachers, administrators, and classified personnel which is instructionally based; and transparency and communication across the district.
In addition, the district's motto has been expanded. In addition to "achievement," "safety," and "positive climate," the motto now includes "humility," "civility," and "service." If we can approach each day with a commitment to serving our community at large with a sense of humility and with a civil tone, I am confident that our district can become the model for other districts statewide.
It is my sincere wish that we can all embrace our new Strategic Plan with a new found confidence and zeal in our unceasing mission to provide the optimum education to all of our students.

---
April 2, 2010


One of the results of the bad economic times in our communities is a proliferation of drug usage. The stress resulting from the loss of jobs and homes has found people looking for ways to escape their predicament. Since schools are merely a reflection of the communities they serve, we have found there has been a commensurate increase in drug usage on our secondary campuses. As a result, earlier in the week we met with law enforcement from Chino, Chino Hills, and Ontario to strategize ways to improve this deplorable situation. On our website, you can currently find "warning signs" for parents and we will be deploying drug dogs on our campuses in the near future. In addition, there will be drug education assemblies for parents, staff, and students. We understand that there will always be those young people who will turn to drugs for experimentation or escape, but that does not release us from our obligation to find ways to reach out before the usage occurs or to send the concurrent message that drugs will not be tolerated on our campuses. This is a total community issue and as such, we welcome your ideas and thoughts in assisting us in fighting this problem.

---

March 19, 2010
A teacher affects eternity, he can never tell where his influence stops. - Henry Adams


What office is there which involves more responsibility, which requires more qualifications, and which ought, therefore, to be more honorable than teaching? - Harriet Martineau


Last night, the Board approved the retirement package for 160 of our teachers. From a fiscal point of view, it was in the District's best interest to approve such a plan. As a result of the Board's action, money will be saved over time and a number of layoffs will be rescinded. It is important for us all to remember, however, that we are losing a group of professionals who have devoted their lives to the young people of Chino Valley.

It is tempting to adopt an "out with the old, in with the new," attitude when people retire. Let us not forget the incalculable hours that these teachers spent educating our students, many of whom have gone on to successful careers; equally important is the high standard of ethical and moral behavior they set, and the minds and hearts that were touched through their care and compassion.

It must be a bittersweet time for these teachers who will be leaving us in a few months. Although they know it is the right time to begin a new chapter in their lives, they must be experiencing some cognitive dissonance in leaving a profession in which they have left such a lasting impression on so many students.

On behalf of our District, I would like to thank you for your service and your years of commitment to our children. All of you will be sorely missed…


---
February 19, 2010


"Most great exploits have to be conducted under conditions of peculiar difficulty and discouragement." - Sir Winston Churchill

I am reminded of Mr. Churchill's words as our district again goes back to the table to cut another $20 million from its budget over two years, a budget from which $27 million has recently been trimmed. Very few predicted the downslide of not only our country's economy but the global economy as well. On a much smaller, micro-level, our State, and by extension, our district, have both felt the disastrous effects of such plummeting resources.

Our board once again is in the unenviable position of deciding where to make cuts which will inevitably affect the students and employees of our district. In times like these, it is easy to fall prey to the temptation of "demonizing" certain groups. Casting aspersions at board members, the administrators, classified personnel, or our teachers during these times serves no useful purpose and in the end, proves counterproductive. If there was ever a time for us to stand together as a district, the time is surely now.

I know for some, it is easier to stay "stuck in the past," lamenting what they feel are the mistakes the district has made in the last couple of years. But for us to successfully extricate ourselves from the quagmire surrounding us, we must be concerned about the present and the future, and be willing to find ways to mutually share the sorrow and pain that such times force upon all of us.

The choice is now before us. We can either stand together and assist each other in overcoming this storm, or we can stand apart and let the winds of divisiveness engulf us.

Winston Churchill was right, people are able to rise to great heights in times of difficulty. I believe we can, and will, find a way out of this current Armageddon of ours, but it is only through faith and trust in each other that we will ultimately prevail.

---
January 22, 2010

Dear Staff and Community Members,


It was the best of times, it was the worst of times. It was the age of wisdom, it was the age of foolishness.
It was the epoch of belief, it was the epoch of incredulity.
It was the season of Light, it was the season of Darkness. It was the spring of hope, it was the winter of despair …


- Charles Dickens, A Tale of Two Cities


This pithy quote from one of Dickens' famous novels, succinctly evokes the times in which we currently live. With financial calamity, joblessness, and the loss of homes swirling around us, one is tempted to think that things cannot get much worse.

However, it is also simultaneously, a great time to be an educator. I can honestly say that as Superintendent of this District I am heartened every day by the smiles on the faces of the children we serve and the diligence and tireless work of our employees.

Although we face a questionable economic future as the State attempts to balance its budget, and the specter of Program Improvement hangs over us, our teachers, administrators and classified personnel continue to offer a quality education to our students. This fact is evidenced by an overall district API score of 800, with six schools breaking the 900 mark.

It is easy in such times as these to subscribe to the "woe is me" syndrome. Whether it is individual people or in this case, a school district, the true measure of one's strength and resilience can only be measured in times that are the most challenging.
In the next few months we will begin work on an updated Strategic Plan which will be our guide and road map to continued improvement and success. Although we have much work ahead of us, we must be always mindful of the good fortune we have to work in a district with such resourceful and caring people. My faith in the students and employees of this district is boundless and I am confident that 2010 will be the best year for our district in a very long time.

Sincerely,