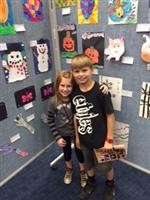 Young artists showcase their work at annual event
Art work by hundreds of Chino Valley Unified School District students was on display to the community March 22 and 23 at Magnolia Junior High in Chino during the District's annual Festival of the Arts.
Among the projects were ceramics, paintings, pencil and crayon drawings, cartoons, sculptures, and craft art.
Magnolia Junior High and Briggs Fundamental School junior high students provided music during the opening ceremony. Eagle Canyon Elementary's Petit Advanced Band Ensemble performed two numbers during the closing ceremony. Eagle Canyon's Drama Club also performed "The Surfer and the Shark", a play written by retired teacher John Payne and showcasing hits of The Beach Boys.
Guests received a museum quality program that was designed by Troy Ingram, coordinator of the District's Innovation and Creative Services department. Set against a background of rust colored leaf imprints, the program included featured photos of the works of student artists and their comments about their artistic journey. The program also included the names of schools, students and classes participating in the Festival of the Arts.
Coordinators of the event were Chris Andreas, Rosalia Arroyo, Andrea Baerga, Dan Cahill, Cindy Dawson, Kathleen Douglass, April Faucher, Rose Garcia, Mary Green, Denise Gumaer, Tricia Hernandez, Jeanne King, Eileen Kostyk, John Lee, Pam Lee, Elizabeth Lorusso, Rhonda Martello, Shirley Meredith, Zoe Pacela, Gerson Renderos, Albert Reyes, Andrea Riley, Sergio Robleto, Angela Trunske, Wendy Villegas, Kim Walker, Flory Welsh, Terry Wharton, Bob Whitmore, Anne Whyte, and Tracy Young.
---