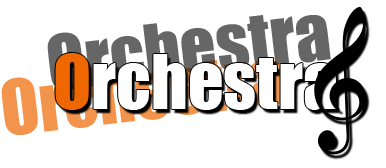 2016-2017
The CVUSD orchestra program is continuing its progress in our district for another year! :) Update coming soon!
POSITIVE RECOGNITION..... NATIONALLY
SYMPHONY, The Magazine of the League of American Orchestras
Fall, 2016 Edition
Our CVUSD orchestra was mentioned in an six-page article in a nationally read orchestra magazine! The article is written by Steven Brown entitled, "Music Education for ALL Students". The article describes how school districts are reviving Fine Arts Education as part of their curriculum. It explains how the "Every Student Succeeds Art (ESSA) gives schools and communities across the United States new leverage in launching, reviving, or enhancing arts education." The following is an exerpt from the article, highlighting the work in Chino Valley:
'The San Diego Youth Symphony is counseling two other California school districts striving to bring the arts to their students. One of them, the Chino Valley Unified School District, started an orchestra in 2014, after California gave local officials more authority in allocating money. "At our spring orchestra concert, I had one parent--who struggles with English--tell me that because of the orchestra program, her son was finaly taking school seriously and doing well academically. All because he loves to play the violin!" says Carol Sweat, the district's parent, school, and community specialist. "This is only one example. These are the stories that motivate us to continue on in our struggle." '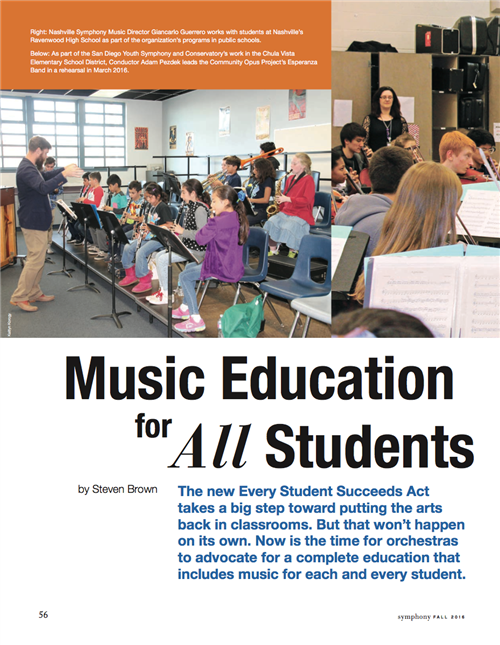 ---
2015-2016
During the 2015-2016 school year, three more elementary schools, one junior high school, and one high school was added to the orchestra program. Using the district's LCAP VAPA (Visual and Performing Arts) funding, another $20,000+ was spent on purchasing instruments and materials for the program. Adding these schools completes one of the four school feeder patterns that we have. Now all of the elementary, junior high and high school of the Ayala High School feeder pattern offer orchestra classes at their sites. The culminating event for the year took place in the spring with all of the schools participating in a district-wide orchestra concert (see article and pictures below). Keep up the fantastic work music teachers and students!!
FALL, 2015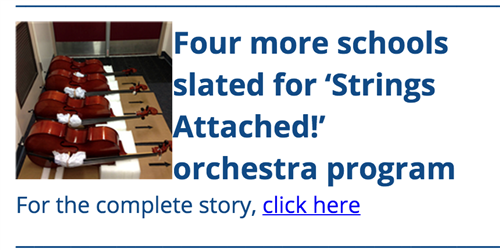 ---
2014-2015
Chino Valley Unified School District's orchestra program had an excellent start-up during the 2014-15 school year. Forty-five students at Country Springs, Doris Dickson, and Eagle Canyon Elementary Schools completed this first year of orchestra lessons under the direction of Music teacher Kevin Bryant with flying colors. With the initial funds we had available, we purchased 18 violins, 4 violas, and 8 cellos. While there were some students who were able to provide their own instruments, most were incapable of doing do for various reasons. The instruments that were procured this school year directly enabled those students to be involved in the orchestra program.
The support provided by the District office, site administrators, and the Committee for the Arts was especially important at Dickson Elementary, where the majority of our low-income students, who would not otherwise have been able to participate, benefitted from the District's instrument loan program.
Orchestra classes began in the fall of 2014, with half of the practices taking place after school. In December and January, each school's orchestra group gave its debut performance in the form of a winter concert, where audiences were treated to such classics as "Jingle Bells" and "Twinkle, Twinkle Little Star". In January, thanks to Mr. Joseph's help, orchestra students from all three schools were able to attend a concert given by the Claremont Symphony Orchestra. The students' first opportunity to perform outside of their own school was in this room at the April School Board meeting. In May the students came together to have a highly successful performance at Ayala High School at the District's annual Band Showcase. The Eagle Canyon orchestra students also participated in their school's 25th anniversary celebration. All in all, it was an exciting first year!
A truism that we see every year is that no quality school program is ever truly static. It either moves forward or it moves backwards. To that end, this program will be expanded in 2015-2016. We look forward with great anticipation as the orchestra program grows next year. Canyon Hills Junior High School will be offering the Chino Valley's first-ever orchestra class at a secondary school, under the direction of Mr. Jeff Wiley. The elementary orchestra program will expand beyond Country Springs, Doris Dickson, and Eagle Canyon, to include Hidden Trails, Litel, and Rolling Ridge Elementaries. The orchestras will be able to offer their very own showcase in the spring. Plans are being made to conduct a District Orchestra Concert in either March or May. In addition, we have high hopes for the orchestra to continue its growth over the coming years, so that students at every school will have the opportunity to participate in this exciting program.
In the spirit of never being static, we have acquired a matching grant from The Classics for Kids Foundation for the Strings Attached! project, which we will use this year to purchase instruments for the new elementary orchestras. Thanks to the efforts of parents, District personnel and the School Board, $100,000 was allocated for VAPA projects in the 2015-2016 LCAP. Some of that money has already been approved to support the purchases of orchestra instruments for the Canyon Hills orchestra class. Another funding source, Swipe for the Kids, has been sluggish, but we are optimistic that more businesses will soon show interest in partnering with us. As Jamie mentioned, this evening you will be looking at another funding source entitled Quipley, which will hopefully provide funding for theatre needs of Ayala High School. There are a number of other funding entities we are seeking to partner with us going forward in the form of more grants.
There are some golden nuggets in regards to this program that go far beyond notes on a page or music from a string. The community partnerships for the Strings Attached! project has been a true treasure this year! We were so blessed to partner with wonderful musicians such as Matthew Keating, the Director of the Claremont School of Music. Matthew has been so supportive of this orchestra effort! He and his staff came to the three elementary schools to promote the orchestra program and held exciting assemblies for the 4th-6th grade students. Another community partner is Janine Riverie, a CalPoly Music Educator. Janine provided professional development for our music educators in the form of a strings workshop.
---