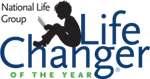 CVUSD teachers nominated for

LifeChanger of the Year award

Five Chino Valley Unified School District teachers have been nominated for the 2016-2017 LifeChanger of the Year award.
The award program recognizes kindergarten through 12th grade school employees and educators who make a positive different in the lives of students.
The program is funded and operated by National Life Group and National Life Group Foundation whose member companies sell life insurance, annuities, and mutual funds.
Nominees are history teacher Jennifer Puente, American Sign Language teacher Joni Kerby, and science teacher Ashley Davis, all of Ayala High in Chino Hills; French teacher Gilbert Lanathoua of Chino Hills High; and third grade teacher Nanette Daly of Eagle Canyon Elementary School in Chino Hills.
The public can post congratulatory comments for the nominees at lifechangeroftheyear.com. The comments will also be considered by the award selection committee.
Fifteen award recipients chosen this spring will share with their schools cash awards ranging from $3,000 to $10,000. The top five finalists will be invited to the National LifeChanger of the Year Grand Prize Ceremony in April in Florida.
(Feb. 16, 2017)
---