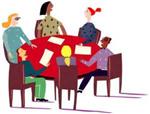 Parent workshops coming
in January to CVUSD
Family Engagement Center
Several parent workshops are planned in January at the Chino Valley Unified School District Family Engagement Center in Chino.
Among the workshop topics are Common Core, Struggling Readers, K-3, and Family Literacy.
The Family Engagement Center is located on the Chino Valley Adult School campus, 12970 Third Street, Chino (between Riverside Drive and B Street).
For more information about the Family Engagement Center, call Carol Garman Sweat at (909) 628-1201, ext. 5601.
For the January 2017 calendar of workshops, and registration information, visit http://www.chino.k12.ca.us/Page/8882
---